Artists for 2017
Search Name:
Filtered By:
---
ENVIRONMENT MOVES ME

Eleonora Ginardi
Saturday 14 October, 10.00am – 12.00pm
Diane Cilento Studio @ Queensland Theatre
Butoh started as an art movement in Tokyo post World War II. During this period of political and cultural turmoil various forms of protest and artistic expression were created. In particular, Butoh was a response to the bombing of Hiroshima and Nagasaki. The defeat of the Imperial Army and the introduction of Western materialism fueled a movement of creative expression that formed a physical, spiritual and cultural dance. This was called Butoh.
Butoh uses images and embodies it during its practice. It is not concerned with controlling the body, but considers the individual as a medium to move without force or expectations. It uses imagery to move the body internally and externally. A certain element of control versus openness is explored. The slow movement in Butoh is known as "Ma" or "the empty space".
Join Eleonora Ginardi and Marisa Georgiou for an interactive workshop that focuses on movement, stillness and metamorphosis.  This collaboration will be using embodied performance to deepen understandings of outside forces on the body, and the capacity of the environment to "move" you. Eleonora Ginardi, a theatre Maker, and Marisa Georgiou, a visual artist, will weave their personal practices to activate a new cultural dance.
Tickets: Workshop pass
To purchase tickets, please click here.
---
INSIDE

Wielding Theatre
Workshop: Universal Principals of Theatre Making
Saturday 14 October, 12.30pm – 2.00pm
Billie Brown Studio @ Queensland Theatre
Wielding Theatre are a Melbourne based theatre company, using theatre as an investigative tool towards inclusive experiences for all.
Inside was developed through using universal principles of theatre making created by people with and without disability to ask the question; Can disability be a collaborator? And if so, how? And what does that look like? Wielding Theatre have answered the question with a resounding yes.
Through the story of the two performers' experience of dance, Inside uses a range of mediums to reveal the internal dialogue of both performers at different stages within their understanding of their world. Inside also explores the often unsaid but commonly felt anxieties around performing with a disability to a live audience. The lighting design and sound design is a reflection of their intimate relationship with dance, desire, and disability in that each performer has a designated lighting state and intimate sound track that represents their experience of dance to the audience.
Wielding Theatre invite you to explore these elements in an interactive workshop following their performance. You are encouraged to bring along your ideas to discuss in the workshop.
Tickets: Workshop pass
To purchase tickets, click here.
---
UNMASTERCLASS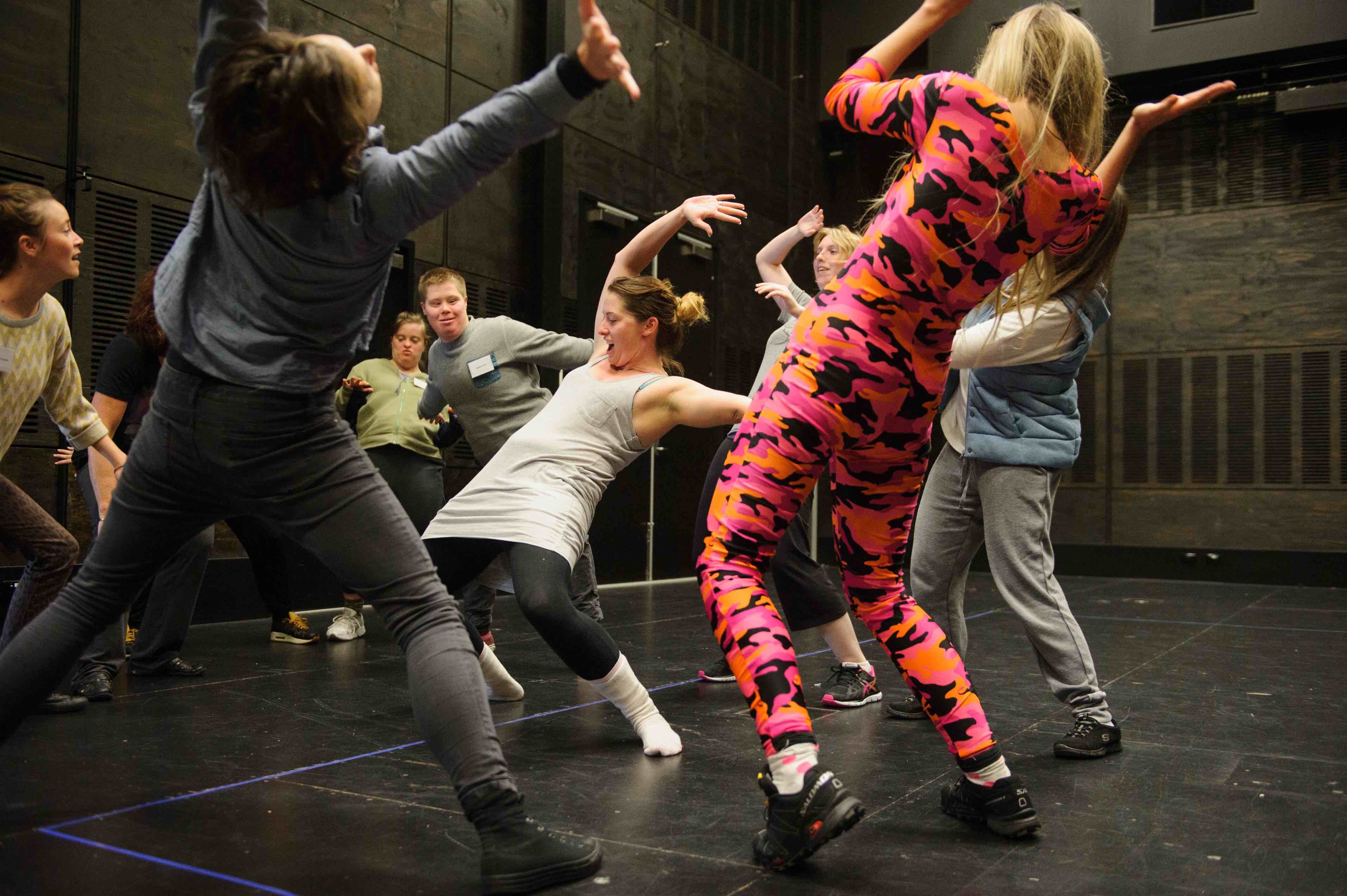 Back to Back Theatre
Saturday 14 October
Workshop 1: 2.10pm – 3.40pm
Workshop 2. 4.00pm – 5.30pm
Diane Cilento Studio @ Queensland Theatre
Dedicated to randomness, uncertainty and a love of errors in the creation of new theatre, UNMASTERCLASS is a theatre workshop that prioritises being over knowledge and skill, elevates doing over thinking.
After nearly 30 years of creating highly innovative and auspicious performance works, Back to Back Theatre has learnt that mastery is the need to learn how not to know what one is doing and how to go on doing it. Join us in a playful and thought-provoking journey where too much definition in the rehearsal room leaves too much out and the objective for theatre makers is learning not to be the master of your own house.

UNMASTERCLASS is an experience and experiment in relational transformations, a reminder that doing something properly is not always a way of doing it differently.
Participants will be given the opportunity to enhance their practice by working with Back to Back Theatre's Artistic Associate Tamara Searle from one of Australia's most globally recognised and respected theatre companies.
Book in early as places are limited for the two UNMASTERCLASS workshops.
Tickets: $50 per each workshop (Limited spaces)
To purchase tickets, please click here.