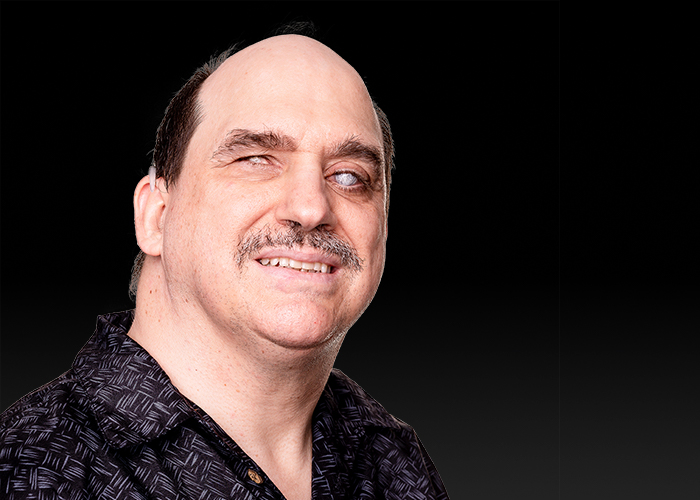 Brenden Borellini is the Ambassador and Artist in Residence at Crossroad Arts where he has been performing for close to a decade. He has collaborated on various projects as an actor, workshop facilitator, photographer and researcher. As Crossroad Arts' Ambassador and Artist in Residence, he has also travelled to Japan and the United States where he exhibited his 2D and 3D photographic works
Brenden was born profoundly deaf and lost his sight at the age of 9. He successfully pursued his education at the Special Education Unit for the visually impaired students at Cavendish Road High School in Brisbane and he became the first deafblind student to integrate into the community.
He then went on to study Sociology at the University of Queensland. He received the prestigious Young Australian of the Year Award for his achievements. Most recently Brenden received Mackay Regional Council's 2020 Australia Day Award for Arts and Culture.
Most recently Brenden performed in the first stage of development of Breathe In as part of An Unconventional Tour. He also accepted the David Bow Memorial Award from the Port of Mackay Rotary Club for Outstanding Community Service and held a solo exhibition Dancing with Ansel at a local cafe based on his photographic research trip to the United States. Additionally, his short film When Brenden met Hiroe has screened in international festivals.
Brenden also co-facilitated workshops for Crossroad Arts' C.R.U.S.H theatre making intensive alongside La Boite Theatre Company, Dancenorth and choreographer Dean Walsh. He delivered a Masterclass in 3D photography at Arts Ablaze conference/festival and participated in the Artsynergy event in regional Queensland. Brenden believes that it is very important for artists with disability to have access to opportunities that develop their artistic works to showcase their stories to the whole world.