WEDNESDAY 15 - FRIDAY 17 SEPTEMBER
For the first time, Arts Access Australia is bringing Australia's annual forum on arts, culture and accessibility to Brisbane. Culturally ambitious, thought-provoking and industry-oriented, the Meeting Place forum will be held from 15-17 September 2021.
The first two days will be an online forum, and the final day will be an in-person networking and workshop day at the Queensland Theatre in Meanjin/Brisbane.
From 15-16 September, you are invited to discover the latest information and research affecting the arts and disability sector; engage in accessible workshops that develop practicals skills to progress your arts practice and career; network with like-minded people and uncover potential collaborative opportunities; and celebrate Deaf and disabled artists and their contributions to the rich tapestry of Australian culture. 
Vital to attend for any professional, stakeholder or organisation within the arts, culture and accessibility space, the Meeting Place forum is both disability-led and arts-led, with its program and governing principles led by a majority group of Deaf and disabled people working professionally within the arts and culture sector.  
Each year, Arts Access Australia holds Meeting Place in a different location to showcase leading accessibility practices and celebrate Deaf and disabled artists within the local arts and culture scene. The forum has previously been held in national cities such as Canberra; regionally, in Alice Springs; and internationally, in Berlin, Germany. 
Meeting Place 2021 is hosted by Arts Access Australia, the national peak body advocating for arts and accessibility, and delivered in partnership with Undercover Arts Festival. 
Official welcome
Time: 10.30am AEST / 10am ACST / 8.30am AWST
World Renowned Brisbane's Tribal Experiences to deliver the Welcome to Country
This will be followed by an official welcome by Arts Access Australia Chair Belinda Locke and Art Access Australia CEO Matthew Hall.
Duration: 30 minutes
KEYNOTE ADDRESSES
Time: 11am AEST / 10.30am ACST / 9am AWST
Keynotes will speak to this year's theme of 'Reflect; Redefine; Revolutionise!'
The keynotes are:
Activist, writer, performer and educator, Georgia Cranko
Interdisciplinary artist, arts leader and solicitor, Riana Head-Toussaint
Choreographer and performer, Joshua Pether
This session will be facilitated by Arts Access Australia Chair Belinda Locke.
Duration: 60 minutes
Masterclass: Promote your art online
Time: 1pm AEST / 12.30pm ACST / 11am AWST
Want to learn how to get yourself and your art noticed online? Let us show you how!
This Masterclass explores best practices on how to get your art online and how to make your art more accessible to an online audience.
Participants of this Masterclass will be invited to use their new skills to submit their own Insta-friendly artwork for inclusion in a special online exhibition to be featured on Arts Access Australia's Instagram page on the final day of Meeting Place.
This Masterclass utilises videos from the Artist Essentials Toolkit – a series of short videos produced by ArtsHub and Creative Victoria. These videos have been reproduced with the permission of ArtsHub.
Duration: 60 minutes
Panel discussion: On track – a focus on regional arts
Time: 2.30pm AEST / 2pm ACST / 12.30pm AWST
This panel discussion celebrates and unpacks the specific challenges to practice and professional pathways for regional artists, highlighting ideas around the Meeting Place 2021 theme, 'reflect; redefine; revolutionise!'.
The panel includes Felicity Chapman (Deadly Weavers, QLD), Deaf Indigenous Dance Group, QLD, and Sergei Netchaef (Mental Bowral, NSW)
Duration: 60 minutes
Panel discussion: Uncover (Musicians with Disability)
Time: 4pm AEST / 3.30pm ACST / 2pm AWST
This panel will showcase Disabled musicians sharing their music, unique personal experiences, as well as their perspectives on how the music industry can improve accessibility and inclusion for Disabled artists and audiences.
Facilitated by producer, musician and disability advocate Eliza Hull. Panel members include musicians Liz Martin, David Truong and Aspy Jones.
Duration: 60 minutes
Panel discussion: Reflect; Redefine; Revolutionise!
Time: 10.30am AEST / 10am ACST / 8.30am AWST
Watch/Listen to our keynotes as they discuss the importance of reflecting on the past, redefining our views and ideas in the present, and how in turn, this can revolutionise our future.
Panel members include activist, writer, performer and educator Georgia Cranko; interdisciplinary artist, disability advocate and solicitor Riana Head-Toussaint; and choreographer and dancer Joshua Pether. Facilitated by Belinda Locke, Chair of Arts Access Australia.
Duration: 60 minutes
Public Consultation: Access and Inclusion Code of Conduct
Part One
Time: 12.00pm AEST / 11.30am ACST / 10.00am AWST
Join Arts Access Australia's CEO Matthew Hall and National Program Manager Sarah Houbolt in this inaugural presentation and feedback workshop on developing a co-designed National Access and Inclusion Code of Conduct for the Arts.
In part one, Matthew and Sarah will outline the purpose of and vision for the Code of Conduct project, and the timeframe for the public consultation period and roll out.
Duration: 30 mins
Part Two
Time: 1.30pm AEST / 1pm ACST / 11.30am AWST
In part two of this session, you will engage with other delegates to discuss the important considerations in a national access and inclusion code of conduct. Findings from this session will be presented back to the entire group and will form critical input into the final design of the Code of Conduct.
Duration: 60 mins
Please note: This is a free session and open to the general public. If you wish to register for this session but are not a Meeting Place ticket-holder, please email info@artsacccessaustralia.org with your details.
Masterclass: Approaches to Composition with Jeff Usher
Time: 3pm AEST / 2.30pm ACST / 1pm AWST
In this 75 minute masterclass, you will learn how to compose songs from leading Australian composer Jeff Usher.
Drawing on his specialty in composing from the piano or by singing, Jeff will talk about two or three of his best songs and how he composed them.
Jeff invites all questions and comments in this interactive masterclass, including questions on how to apply his techniques to different methods of composition.
Duration: 75 mins
Panel discussion: Disability-led in practice
Time: 4.30pm AEST / 4pm ACST / 2.30pm AWST
Talking about disability-led art making process is one thing, but how do we do it and get it right? This conversation aims to turn disability-led theory into practice. Discussing what disability-led rehearsal rooms and project plans look like and the responsibilities of those involved, this conversation will unpack the various methods of working in a disability-led space within different artistic contexts.
This panel discussion facilitated by Arts Access Australia Board Member, inaugural AAA National Leadership Award Winner and Undercover Artist Festival Director Madeleine Little. Panel members include UK-based dancer Dan Daw, academic researcher and circus artist Racheal Missingham, Aotearoa/New Zealand-based interdisciplinary artist Pelenakeke Brown, and Artistic Associate at Indelability Arts Alexandra Ellen.
This session is co-programmed by Undercover Artist Festival. Dan Daw's involvement is supported by the British Council as part of the UK/AU Season.
Duration: 60 minutes
Two-day forum closing speech
Time: 5.30pm AEST / 5pm ACST / 3.30pm AWST
A short speech from Arts Access Australia's CEO Matthew Hall, as he considers the main takeaways from the two-day forum.
Duration: 10 minutes
Networking and Workshop Day
Time: 11am to 4pm AEST
Come to Queensland Theatre for this special in-person networking and workshop day.
From 11AM until 4PM, you'll be able to meet and greet peers in the arts and disability sector as Meeting Place takes over the Queensland Theatre foyer.
The day will begin with a little creative expression, where you will have the opportunity to participate in one of two workshops: A Weaving Workshop hosted by Felicity Chapman of Deadly Weavers; or Teaching Hands/Looking Out, an artist talk and workshop hosted by Brenden Borellini.
The workshops will be followed by a relaxed networking opportunity. Auslan interpreters will be available to facilitate networking as needed, and we encourage people to self-describe as required for the blind and low vision community. We encourage everyone to be open about their access needs when networking so we can cater to these.
You'll also be able to take a break from networking and contribute to the Disabiltiy Pride Wall – the brainchild of artist Larissa McFarlane; hear or watch live readings from the latest Writing Place magazine, a magazine showcasing the work of Deaf and Disabled writers and poets; or watch/listen to live music in the Queensland Theatre courtyard.
Please note: Due to COVID-safety, lunch and refreshments will not be provided. However, there is a cafe at the venue where you will be able to purchase food and drinks.
About the workshops
Weaving Workshop: 11am – 1pm AEST
Please note: there is a cap of 12 participants for this workshop.
Learn traditional Indigenous weaving techniques in this workshop hosted by Felicity Chapman of Deadly Weavers.
Teaching Hands / Looking Out
Please note: there is a cap of 30 participants for this workshop
Artist Talk: 11am – 12pm AEST
Brenden Borellini has been an inclusive arts advocate and creator with Crossroad Arts for over a decade. During his artist talk Brenden will discuss his work across various projects as an actor, poet, workshop facilitator, photographer and researcher. Brenden was born profoundly deaf and lost his sight at the age of 9 and has represented Crossroad Arts through his artistic work nationally and internationally
Workshop: 12.30 – 2pm AEST
Brenden's workshop invites participants to explore art making by utilising tactile techniques, the use of alternate communication and unique ways of seeing through photography. All participants will leave with a thermal print of their portrait taken by Brenden and also new found knowledge of braille and the deafblind alphabet!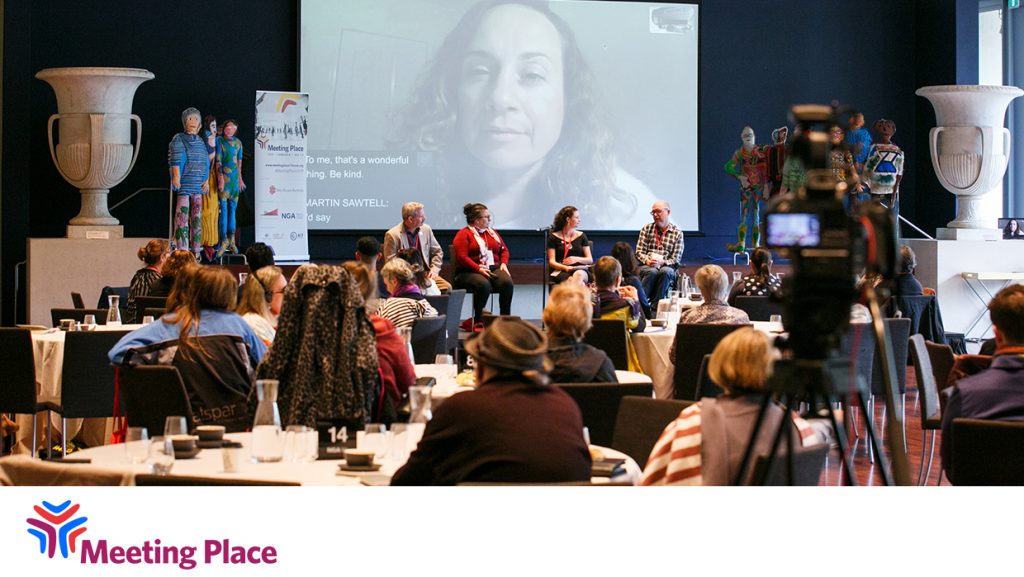 Venue: 
Online and;
Bille Brown Theatre & Diane Cilento Studio
Queensland Theatre
78 Montague Rd, South Brisbane QLD 4101
Date: Wednesday 15 – Friday 17 September

Meeting Place
Wednesday 15 - Friday 17 September