SATURDAY 18 SEPTEMBER - 10:00AM
In their first public performance since COVID lockdowns, three Screech Arts groups have come together in collaboration devising 'Unapologetically You'. In a recent world of fear, isolation and uncertainty, what better time than now to offer a performance promoting connection through stories in the journey in becoming 'Unapologetically You'.
This performance explores the idea that connection and communication is the key in building a community where we all feel comfortable to truly be ourselves. So often in society we can feel pressured to conform to a certain mould, idea or way of being. 'Unapologetically You' asks the questions "why" and "what if". The piece investigates these ideas and asks these questions, while all the time still being fully aware that we don't necessarily have the answers.  
Join Screech Arts in sharing and connecting through relatable true stories of overcoming challenges, sadness, loss, strength and hope. 
Video caption: Screech Arts video clip for 'This Isn't Disneyland', by The Sisters of Invention.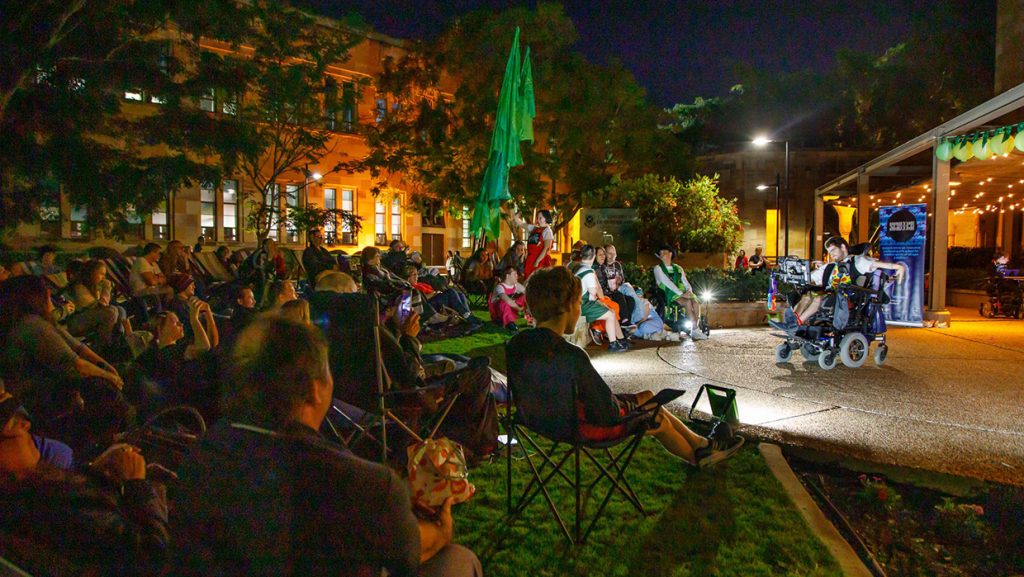 Tickets: $25
(+$5.00 transaction fee)
Venue: Bille Brown Theatre
Queensland Theatre
78 Montague Rd, South Brisbane QLD 4101
Date: Saturday 18 September
Time: 10:00AM – 11:00AM
Screech Arts
Actors Ensemble
Performers: Dale Gonelli, Danielle Stewart, Micheal Doust, Dylan Geary, Miranda Sherman, Matt Taylor, Matthew Burr, Mags Doherty, Danielle Carty.
Screech and Squawk
Performers:
Nathan Jennings, Tessa Maguire, Jai Whitelaw, Emily Merchant, Lochlainn Wylie, Courtney Proud.
Dance Troupe
Performers: Miranda Sherman, Danielle Stewart, Micheal Doust, Jasmin Cox, Kaitlyn Smith, Chris (Jun) Zhang, Matt Taylor, Mags Doherty, Danielle Carty, Aidan Chauncy.
Supporting staff: Niala Lewis, Sarah McGill, Danielle Brew, Nicholas Wyatt, Jim Ford, Chloe Harvey, Chloe Shoobridge.
Volunteers: Wendy Chauncy, Krystle Lee, Helen Cheng, Vinh Ly.
Program Facilitator / Director: Martina Cross 
Unapologetically You
Saturday 18 September, 10:00AM – 11:00AM