Congratulations Matilda Award
The ceremony for the 2022 Matilda Awards was held last night, and it was so brilliant to see so many amazing and talented performers come together.
We want to say a massive congratulations to all the nominees and winners last night!
There were a few performers there who are particularly close to our hearts, and who have performed in our festival, who were nominated last night. It means so much to us all to see these amazing people get recognised for their great work.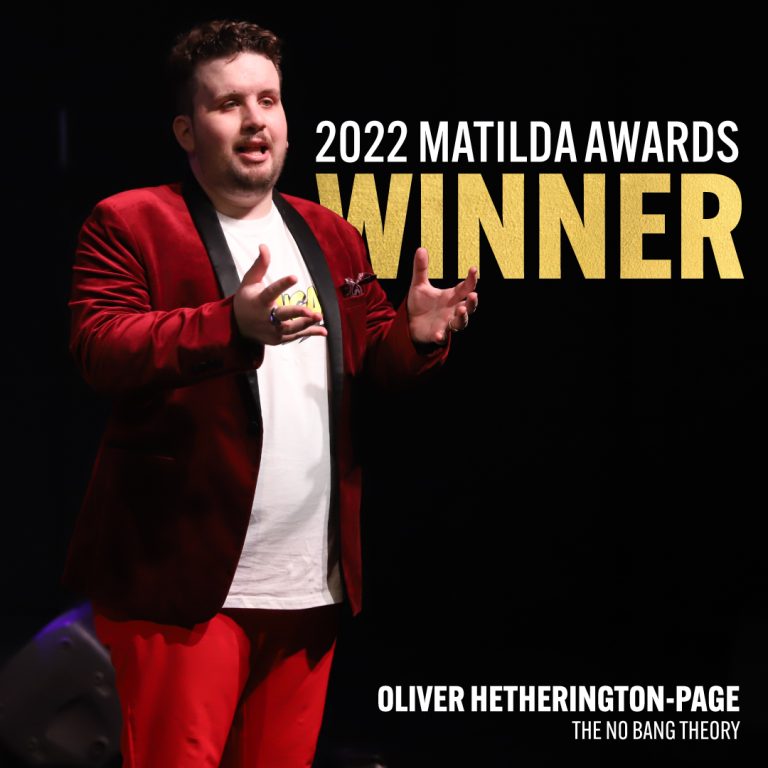 Billie Brown Award for Best Emerging Artist Winner
Oliver Hetherington-Page
We are so proud and excited to share that Oliver Hetherington-Page won the Billie Brown Award for Best Emerging Artist (tied with Perry Mooney) for his show The No Bang Theory!
Oliver first submitted his idea for this show to our 2020 Undercover Artist Grants Program, and from there it grew into this amazing show that has been performed all over the country. For those of you who were at our 2021 Undercover Artist Festival you may remember seeing a performance of this show. Since performing it with us it has just grown in popularity and take the country by storm.
Oliver has stunned audiences with his musical-cabaret form, and his unique and witty voice. He elegantly combines elements of comedy, social commentary, musical theatre and dazzling dinner jackets, to create an engaging and highly entertaining performance.
Oliver's work embeds important elements of didacticism and social activism alongside a witty, charming and deceptively complex narrative.
The No Bang Theory is a fantastic performance, and we highly recommend it to anyone who hasn't seen it yet! Keep up to date with this show here.
Well done Oliver, we can't wait to see what you bring us next!
But the celebrations did not end there!
We're proud to share that our Festival Director Maddie Little is also a Matilda Award winner this year!
Maddie won for her performance in The Normal Heart; winning alongside her co-star Janelle Bailey.
It's no secret how much we all love Maddie, and it is so great to see her getting recognition wherever she goes for the fantastic performances that she gives.
Best Actor in a Supporting Role – Independent production
MADELEINE LITTLE
Maddie is a truly talented performer, who brought an authenticity to her performance as Dr. Emma Brookner in Ad Astra's production of The Normal Heart.
She made the role her own, and touched everyone's hearts as a woman struggling to be heard by the straight abled establishment as her patients and friends keep dying around her. Full of resentment and sadness, Maddie captivated the audience while she was on stage.
Maddie must have more energy than anyone we know: bringing so much to all of the things she does, as well as the great work she does for Undercover Artist. We are so proud to have her with us and to be able to share her successes with everyone.
Congratulations Maddie! Well done and well deserved.