It's hard to believe that July has flown by so quickly. It seems like just yesterday we announced our Undercover Artist Festival 2021 program!
It's been a busy time for everyone, but I wanted to take a moment to share something important.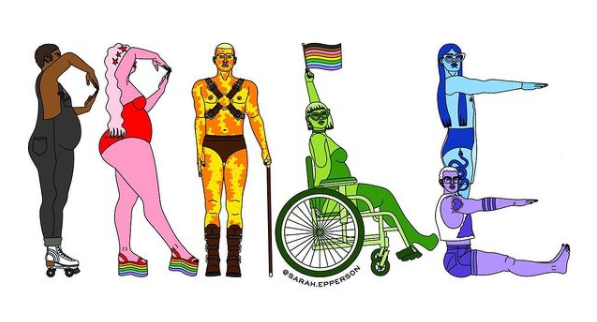 Did you know that July is Disability Pride Month?
A lot of people don't!
You might be wondering what it is, and why it is even necessary. You might even be confused, wondering why such a thing exists.
When we hear stories of people with disability, we often hear stories of pity or tragedy. Rarely do we hear success stories – or even just ordinary stories!
This is because we are taught from a young age that disability is a bad thing.
Disability Pride is about changing that perception. Switching up the narrative to embrace disability, what it means and how it impacts us.
If you aren't yet familiar with the Social Model of Disability, I highly recommend giving it a search and reading up on it. Learning about the Social Model changed my life for the better. It gave me a reason to think of myself as a valuable person worthy of the same respect and dignity as my non-disabled peers. It gave me the strength and the confidence to pursue my education, completing a Bachelor of Fine Arts (Drama) at QUT and going onto complete a Master of Arts (Creative Arts) at USQ while juggling part-time work. This led me into a number of incredible professional opportunities that helped me land the role of Festival Director, and for that, I am so grateful.
When I was younger, specialists and teachers had always shared how sorry they felt for me. I was given skills and resources, sure, but I always wondered why they implied I'd use these tools to be a receptionist when I grew up.
Don't get me wrong, receptionists are hard-working and administration is no joke! I've held two reception jobs. I know how hard it can be and how underappreciated receptionists are sometimes. But I also wonder how big I might have dreamt had I been taught that I was worthy of those 'bigger dreams', too.
Would I have been more prepared for self-advocating in tricky situations? Would I have had more confidence in job interviews? Would I have learned to love myself and my body long before my 21st birthday?
The Social Model of Disability isn't perfect, but I truly believe it is a stepping stone towards greater acceptance and equitable access to the same opportunities for all. Importantly, the Social Model recognises that we are all responsible for the physical and attitudinal barriers that disable people.
It taught me that there's nothing wrong with me or my body, and it's not my fault if some elements of society are not accessible to me.
It taught me that I could be brave, strong, confident, worthy, and disabled.
It taught me that I could be proud of who I am.
What beautiful lessons to have learned!
I spent most of Disability Pride Month gearing up for the (re-imagined) program release for Undercover Artist Festival, an event where we are showcasing incredible disability-led works from some truly amazing artists. I then took some time to rest and recover, recognising that my disabled body has a need to rest.
I used to feel incredibly guilty about that. But now I know that taking care of myself is okay, because I deserve to live as my best self – just as everyone else does.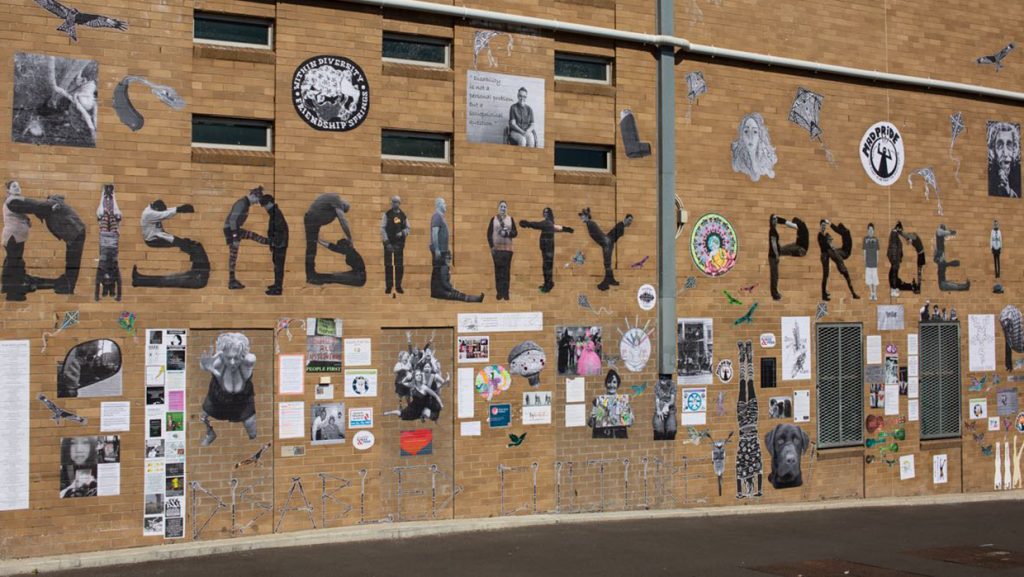 I'm so excited to be able to share Disability Pride with everyone at the Festival with the help of the Disability Pride Wall interactive installation, led by Lead Artist Larissa Macfarlane and supported by local artist Jeremy Hawkes and Mackay-based artist Brenden Borellini (Crossroad Arts).
I was lucky enough to visit the Disability Pride Wall in Footscray, Melbourne. Larissa's work – and that of all of the contributing artists – was so moving. The experience was life-changing, and it has stayed with me ever since.
The Disability Pride Wall at Undercover Artist Festival will collect visual artworks and contributions from artists and audience members with disability or who are d/Deaf who will add to the wall with what Disability Pride means to them.
The Wall will evolve over the four days of the Festival as more people add to it with their stories, words, art and perspectives. Perhaps some will even be inspired by a performance they've seen and can respond to that.
Not only will this be a powerful interactive work for disabled and d/Deaf people, but I hope that non-disabled and hearing folk will visit with open minds and hearts. Come with us and join in our stories. Who knows? You might learn something important along the way.
Happy Disability Pride Month, everyone.
With love,
A proud disabled woman.
Madeleine Little